Vision Problems After a Concussion or TBI?
The Centers for Disease Control estimates that around 2.8 million people in the United States suffer...
Our Services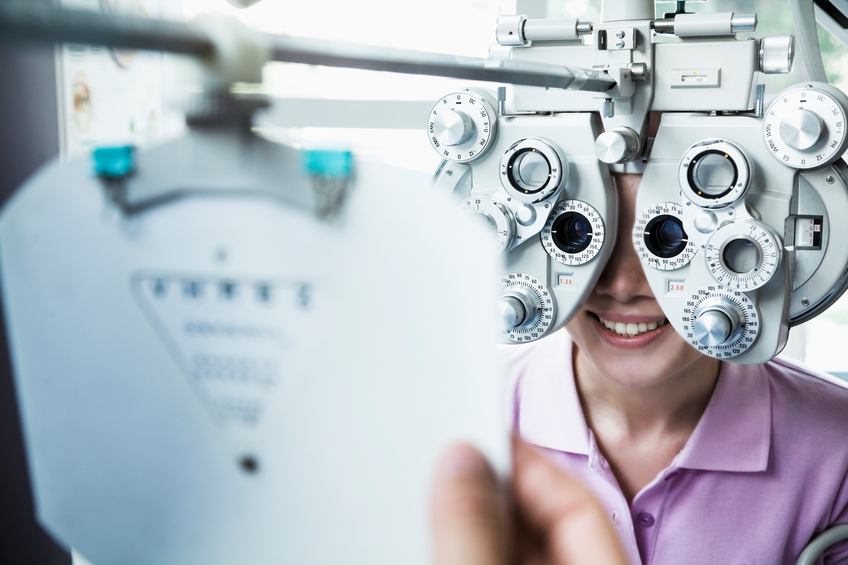 As a fully licensed and equipped optometric practice, Glen Ellyn Vision Center offers a complete range of eye care services to all our patients.
Whether the eye care issue involves correcting refractive errors with eyeglass or contact lenses, or helping a student find amazing frames, or diagnosing/treating eye conditions and diseases, our experienced team will identify and implement the best eye care solutions for you.
Eye Health Evaluation
With our years of experience in diagnosing and treating typical vision disorders such as nearsightedness, farsightedness, amblyopia, presbyopia, cataracts, macular degeneration and diabetic retinopathy, and Martin J. Sikorski Cheryl Sikorski Meyers Jeffrey D. Meyers and their team are equipped to provide appropriate therapeutic medical eye care.
At the same time, the Glen Ellyn Vision Center team offers a wide array of high quality eye care products at reasonable prices. Our patients never pay too much for the best quality in eyeglasses, contact lenses, sunglasses, progressive and bifocal lenses, and outstanding service.
Treatment of Eye Disease
If you are diagnosed with an eye disease, you want the best treatment available to get your eyes healthy again. At Glen Ellyn Vision Center, we stay current with best treatment practices. Based on your diagnosis, we may recommend a wide variety of approaches, including improved nutrition, prescription medicines, therapy and vision exercises, or medical procedures.
Good Eyecare Begins With A Yearly Eye Exam!
Although many do not realize it, the best way to protect your vision is with a yearly eye checkup. Even a basic eye exam can instantly detect many health-threatening conditions, such as tumors, vascular irregularities, and diabetes-related injury to the retina. At Glen Ellyn Vision Center, that basic checkup is brief and painless.
Our exams go beyond basic vision checks. We passionately feel that the health of the eye is important too. Utilizing state of the art technology - such as OCT (retinal/optic nerve imaging), perimetry (visual field testing), and retinal photos - we evaluate for glaucoma, cataracts, macular degeneration, eye allergy, and countless other eye diseases that can interfere with good vision. As a result, you can expect your eye exam to last at least 1 hour. We schedule 30 minutes of time for preliminary testing that might need to be done and then 30 minutes of time with the doctor. It may be a longer visit than you are used to, but it is a thorough visit and allows time for the doctor to discuss findings as well as management and treatment options.
***Please be aware – because of the 30minutes we allot for preliminary testing, you will typically not see the doctor until 30 minutes after your appointment time.
Because of the time we take with patients, being sure to answer any and all questions they may have, occasionally we get a little behind schedule – we sincerely apologize for this, as we know your time is valuable too. Be assured we will make every effort possible when we are aware of the delay to let you know when we are behind and work with you if your schedule does not allow for the extra time. We appreciate your understanding and know our doctors and staff will not compromise their time with you either.
The FDA regulates contact lenses as a medical device, and we take that label seriously. We monitor our contact lens wearers closely to see if they are experiencing any negative effects. Contact lenses have the ability to affect the health of the eye that glasses do not and, as a result, require more testing to be sure the eye is healthy enough to wear or continue to wear contact lenses. We take the extra time to evaluate the cornea (clear tissue on the front of the eye that the contact lens sits on), tear film, and external eye health to assure comfortable, safe contact lens wear. We utilize slit lamp evaluation to assess tear volume, tear quality, TBUT (tear break up time) corneal staining with fluorescein sodium vital dye, and eyelid health. Baseline information is gathered prior to starting with contact lenses and then again after a 2-week wearing period to be sure the eye is adapting to the presence of a contact lens. We repeat this evaluation at least yearly to assure continued healthy contact lens wear.
Appointments are available daily for emergency and red eye evaluations. Our doctors are also on call 24 hours a day, 7 days a week, for after-hours urgent eye care needs. Whether you have had an injury, foreign body, allergy, or general red eye, we are able to help. We incorporate the new adenoviral test to confirm the diagnosis of viral conjunctivitis. We have external photography to document and monitor eye injuries and corneal abrasions. We employ the use of bandage contact lenses for corneal abrasions to minimize pain and aid in healing.
For emergency care during office hours, call our office at 630-469-4141. For after-hours care, call our office at 630-469-4141 and select 1 after the greeting, the on-call doctor will be notified and get back to you shortly.
OCT – or Optical Coherence Tomography – utilizes light waves to capture high-resolution images of eye tissue. It provides a cross-section view of the retina, allowing for non-invasive observation of each distinct layer of the retina. This method aids in the diagnosis of macular degeneration, diabetic eye disease, and numerous other retinal conditions. It can also measure the fibers of the optic nerve aiding in the diagnosis of glaucoma.
OCT allows us to see detail in the eye tissues that would normally only be observable under a microscope – but does not do any damage to the tissue. This technology has allowed for earlier detection and a better understanding of eye disease, which can both lead to better treatments and visual outcomes.
The testing is quick, taking less than 10 minutes from start to finish, does not require the eye to be dilated, and provides immediate results. It is also done to track the eye for changes over time, further enhancing the value and necessity of the technology.